/

The Vikings Won't Say If Dalvin Cook Will Be On Pitch Count
The Vikings Won't Say If Dalvin Cook Will Be On Pitch Count
Friday, September 07, 2018 2:50 PM America
As the final minutes leading up to Sunday's kickoff count down, Vikings running back Dalvin Cook will be in the locker room at U.S. Bank Stadium, blasting music in preparation for the season opener against the San Francisco 49ers.Dalvin Cook declared himself ready for the season, after getting two carries in the preseason.
Dalvin Cook's first game back was a blink and you missed it preseason moment against the Seattle Seahawks. He carried the ball twice for one yard which doesn't seem like a lot, but when you've been out for a full year with a torn ACL, it tells you that you are ready for the first regular season game.
Cook spoke with the Pioneer Press about his return. "I got it out of the way and now it's time for me to hone in on what we're doing as an offense. My knee is fine. It's ready to go. I'm ready to play."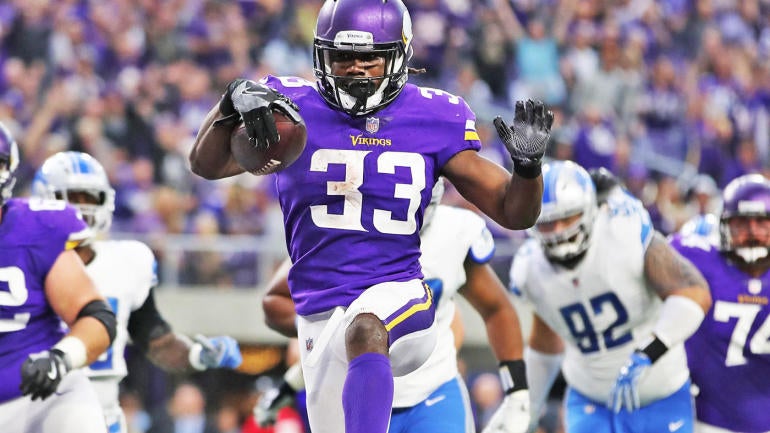 As to whether he's ready to resume a full workload, that remains to be seen. In the three games before he was injured last year, Cook was averaging more than 20 carries per game, which is what the Vikings envisioned when they drafted him in the second round. "Well, we're going to find out real soon," Cook said of his workload. "It's different, man. In practice, I'm trying to help myself by finishing runs and finishing plays to get myself in that type of shape. Once the game comes around, it's a different story. It'll be a mental thing on the other side with pushing through and wanting to get it done."
While Cook has been honest about the difference of full practices and being in "game shape" after his ACL recovery, the Vikings are going to keep that in mind as they apparently plan to give him all he can handle in Sunday's opener against the 49ers, according to offensive coordinator John DeFilippo.
"We're not sure yet.We'll see how it goes. There's nothing that hasn't told us that he can't carry the load," DeFilippo said Thursday when asked if Cook would be on a 'pitch count.' "If there's something during the game that comes up where he needs a blow, or he needs to come out of the football game, then we'll handle that situation."