/

Mike Hughes' Pick-six Makes Impact Sooner Than Expected
Mike Hughes' Pick-six Makes Impact Sooner Than Expected
Thursday, September 13, 2018 2:56 PM America
From pretty early in training camp, it was clear that Mike Hughes had special talent.Normally Mike Zimmer is cautious about over-praising young corners, but in mid-August, the Minnesota Vikings' head coach raved about how quickly the team's first-round pick was coming along as a nickel corner.UCF fans won't soon forget the impact Mike Hughes had during his sole season with the Knights.
His 95-yard kickoff return for a touchdown against USF saved the Knights' perfect 2017 season. But Hughes has moved onto a bigger stage and he's already making an impact. Hughes spent most of last week's practice working at the nickel spot in anticipation of replacing the injured Mackensie Alexander in the Vikings' season-opener Sunday against San Francisco at U.S. Bank Stadium.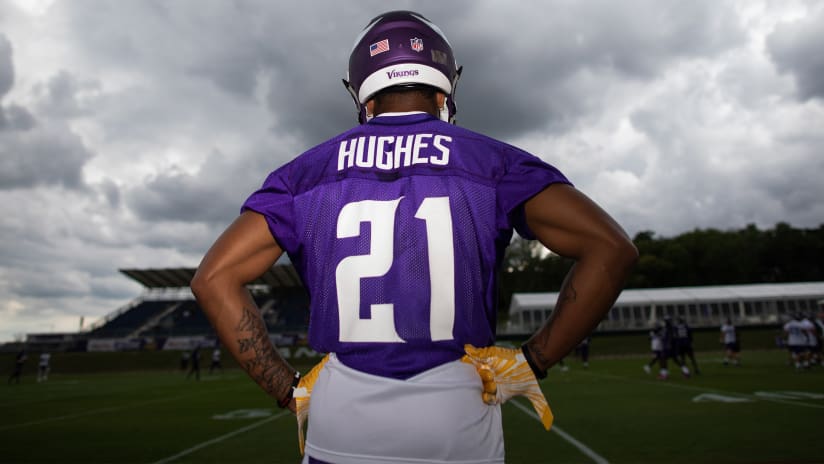 Pressed into full-time duty because of injuries, the first-round draft pick had an eventful launch to his career in a 24-16 victory over the San Francisco 49ers.
Hughes had a 28-yard interception return for a touchdown and a pass breakup in the end zone after replacing injured cornerback Trae Waynes with the first-team defense.
"I kind of blanked out," Hughes said. "I was just amazed. All my teammates came around me. I was celebrating, I was getting the crowd hyped. It was a great feeling."
Drafting Mike Hughes, a cornerback from UCF, with the 30th overall pick appeared at the time like a move made for the future. Even with more pressing needs, Minnesota wanted to add a key piece to its secondary. Mike Zimmer reminded that a team "can never have too many cornerbacks." "As many times as we can find guys that can cover around here, the more we want," Zimmer said the day after Hughes was drafted.
"That's why we drafted him," Vikings coach Mike Zimmer told the St. Paul (Minn.) Pioneer Press. "Everybody was complaining about taking a corner. I'm glad we had him today. ""We expect him to go out there and do that," Zimmer said. "That's why we drafted him. Everybody was complaining about taking that corner, I'm glad we had him today." His early impact is already paying dividends for a team that was able to capitalize on his potential much sooner than expected.
"He takes in everything from everyone around him, learns from everybody," Kearse said. "You could see it through OTAs and training camp. The guy moves great in and out of his breaks, fluid in his hips, so it's not surprising he got out there (Sunday) and had a big game. I talked to him about it and told him now you've just got to keep it going."